The idea of My Cotton Tree started soon after the birth of my baby. While rocking him off to sleep at 2:00am, I was constantly wondering how I would style him for his welcoming ceremony. My mind was absorbed in finding the perfect outfit that was soft and luxurious that would keep him comfortable for the day.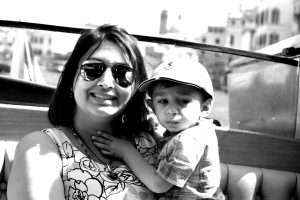 The next morning I browsed online looking for outfits that was unique, stylish and affordable. I found "unique and stylish" but certainly not affordable. I then flirted with the idea of sourcing designs and fabrics from across the globe. However during my travels, I found the gems I was looking for right here in Africa.
Every design from My Cotton Tree is hand-picked ensuring that I offer you pieces that are unique and stylish at an affordable price. I hope you enjoy dressing your kids in our designs as much as I enjoy creating these special pieces for you.
Become part of the My Cotton Tree family, and let's grow our kids in style, together!
With Love & Smiles
Sharika